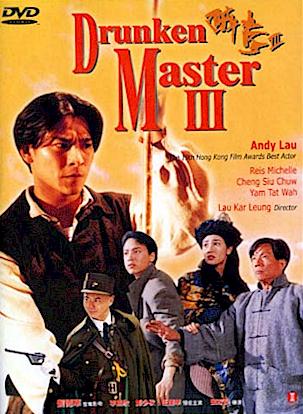 Made: 1994 
Format: .rmvb
Region: Region 2 PAL 
Release Date: 25 Apr 2005 
Company: Optimum Asia 
Length: 92 minutes
Picture: Anamorphic 1.78:1 Widescreen
Language: Cantonese DD (2.0) with Chinese and English subtitles
Extras: None 
Classification: 12 

Director:
Lau Kar Leung 

Cast:
Willie Chi, Andy Lau, Adam Cheng, Gordon Liu, Lau Kar Leung, Simon Yam, Michelle Reis  


PLOT:
The meandering plot serves as a major distraction during Drunken Master 3. The main thread is that Emperor-to-be, Yuen Shih-Kai, needs to be given a Jade Ring by his prospective bride, Princess Sum Yu (Michelle Reis). The Princess and revolutionary Yueng Kwun (Andy Lau) are taken into the care of Doctor Wong Kei-Ying (Adam Cheng). At the famous doctor's Po Chi Lam clinic lives his son, Wong Fei Hung (Willie Chi). This mischievous scallywag ends up on the run with Sum Yu and Yueng Kwun. Hot on their heels are the White Lotus Sect, a camp Simon Yam and the menacing Governor Li (Gordon Liu). As you might has guessed, this all leads to one big showdown, but not before Lau Kar Leung has made his required cameo in order to teach Wong Fei-Hung the secrets of Drunken Boxing!


Download/Скачать:
Mirror/Зеркало: