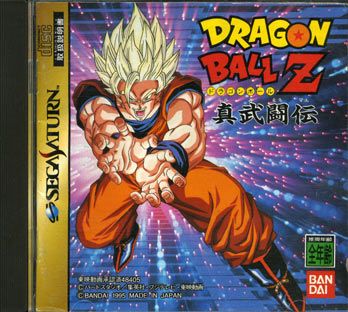 Genre: 2D Fighting
Developer:Bandaï
Language:Japanese
Image Format: ISO, CUE + WAV

Dragonball Z doesn't really use any of the Saturn's power to the extreme unlike other Saturn 2D fighters but never the less it does look quite nice. Character animation is smooth and backdrops have more depth to them than what the SFC versions had. Fans of he SFC games will recognize many of the tunes used in this Saturn game since they are enhanced versions of the SFC originally which is no bad thing at all since the originals were pretty catchy.

So how does this game play? Well for those who've never played the SFC games it may be a bit tricky to understand. Well the game is a 2D fighter just like any other but you are not bound by the boarders of the screen size. Now while Neo Geo games normally zoom the screen out to give you that little extra playing area, Dragonball Z actually splits the screen. So you end up with a screen about 4 screens in length only split down the middle. One character can go off in one direction while the other goes in another. You may be wondering what the point to this is. Well, some of the moves in Dragonball Z require you to be quite some distance from your foe before they can be executed. Moves such as he long range fire ball (No idea what it's called). Also the split screen offers more high tension action since you constantly have to avoid or follow your enemy depending on the case. Not only do you have the split screen but the characters can fly making the game even more action packed. Then you can throw the enemy in to the background making yet another plain to play on. All in all Dragonball Z on the Saturn is very nice indeed but be warned that it's not a game for everyone. This game takes a long time to master the controls and the way it plays. Once you have mastered that though you'll really enjoy this fighter. Also there are many modes of play such as Story mode, Vs mode, Mr. Satan mode (sort of a tournament) and another mode.

Download/Скачать:
http://depositfiles.com/files/oacd77one
http://depositfiles.com/files/95dcxptrf
http://depositfiles.com/files/e76ksfgyh
http://depositfiles.com/files/tuhgty08y
http://letitbit.net/download/7541.70c9e0cd9e6fcb8b048c968e579e4b62/DRAGoN_BALL_Z_shinbutouden.part4.rar.html
http://letitbit.net/download/1264.116091bd024b073a6bdbc4b9442a64db/DRAGoN_BALL_Z_shinbutouden.part3.rar.html
http://letitbit.net/download/7136.7db09257016c045b812efdf911853d6c/DRAGoN_BALL_Z_shinbutouden.part2.rar.html
http://letitbit.net/download/7533.76d6c0dde4224944c2e6524e3b350cb9/DRAGoN_BALL_Z_shinbutouden.part1.rar.html